EmelFM2 File Manager v(0.5.0) rev 29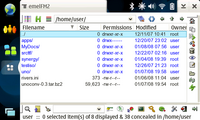 Downloads: 11277
Votes: 30
Free & Open Source license

A one or two pane file manager compiled for maemo. Has built in file viewer and editor. Targeted towards advanced users, although beginners could find value if used carefully.
Ported from original project at http://emelfm2.net/
Updated 2009-01-07 18:01 UTC
Links
Changes in version (0.5.0) rev 29
1/7 : Updated to authors 0.5.0 release.
Minor release to update to authors 0.5.0 release and to update the associations to keep up-to-date with what i use in my dbus-switchboard utility.