EightyOne v1.6.20090520-3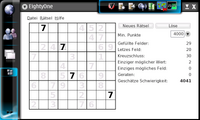 Downloads: 32728
Votes: 17
Free & Open Source license

A simple Sudoku clone. Creates new Sudokus on the fly. Current version now also supports generating riddles with a user defined complexity. EightyOne is part of the extras repository.
Updated 2009-06-19 16:45 UTC
Links
Changes in version 1.6.20090520-3
Added keypad instead of popup dialog to improve usability.
General cleanup of interface.
Added "are you really sure" check to "generate" action.