Eboard - Chess program v1.0.3-9-maemo3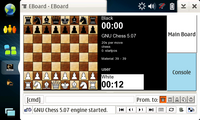 Downloads: 1217
Votes: 2
Free & Open Source license

This is a port of the eboard chess program. There are still several problems that are being worked. The sound is not completely working. To use GNUCHESS 5 engine use the Generic Engine menu item. I have not tried crafty but there is a download at: http://www.v7f.eu/public/n800/chess/.
Updated 2010-02-24 22:20 UTC
Links
Changes in version 1.0.3-9-maemo3
Port of Eboard to Diablo.