Turbo Easy Debian for Everyone v0.9.35-2diablo1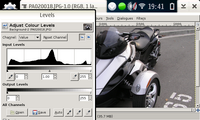 Downloads: 18388
Votes: 52
Free & Open Source license

Run OpenOffice.org 3, the Gimp 2.6, Firefox 3, Java apps, the LXDE environment and many other Debian applications right in OS2008 by installing this package and then downloading a big image file to your SD card. You'll need 1.5 GB available.
NOTE THAT THIS IS THE OS2008 VERSION FOR N8x0 TABLETS!
Updated 2010-01-11 05:45 UTC


Links
Changes in version 0.9.35-2diablo1
Now an Extras / free package, with all source code available in the git repository of the garage project!