Digia @scene v1.0.6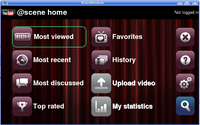 Downloads: 5219
Votes: 12
Non-free license

Digia @scene is a highly optimized application for superior consumption and contribution of video content of YouTube.
With finger touch operation, cool and usable UI specifically designed for mobile, superior search functionality, offline storage and optimized video quality Digia @scene is the best way to access YouTube from a mobile device.
Updated 2009-11-17 08:39 UTC
Links
Changes in version 1.0.6
Support to HD video from YouTube (note that some HD content is so HD that it does not play well). Also many small fixes done.