DiceJinni v0.3.20090520-1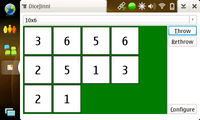 Downloads: 2234
Votes: 5
Free & Open Source license

DiceJinni is a small application to simulate the rolling of dices.
One can define sets of dices. Each dice can have any number of sides and each side can have any value.
DiceJinni is part of the extras repository.
See dice.pl for an example perl script to generate a configuration file.
Updated 2009-06-19 16:45 UTC
Links
Changes in version 0.3.20090520-1
Some bug fixes (Added missing cancel buttons, enable/disable of buttons)