DialCentral v1.3.6-0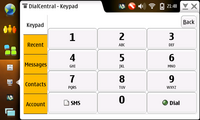 Downloads: 25072
Votes: 37
Free & Open Source license

A simple, lightweight interface to the Google's GrandCentral (tm) service.
With this native application you can initiate Click2Call sessions, send SMS messages, view and call from your google address book, see you recent call log, view Voicemail transcripts and SMS messages, and change your preferred callback number.
NOTE: A Grandcentral (tm) or GoogleVoice (tom) account is needed for operation of this utility.
Updated 2011-08-06 02:30 UTC
Links
Changes in version 1.3.6-0
Fixed up two login issues and sped up login
Massive cleanups to Phone Selection and SMS Entry
Increased user notifications of whats going on
Added Maemo 5 support