dcraw v8.9.8-3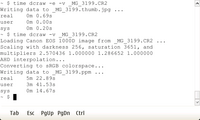 Downloads: 477
Votes: 0
Free & Open Source license

Port of the dcraw program to Maemo tablets. dcraw is able to read numerous raw image formats produced by digital cameras. dcraw converts these images into the standard PPM and TIFF image formats.
dcraw allows you to process your RAW photos on the go, or to preview it by extracting its thumbnail.
Updated 2009-10-22 20:29 UTC

Links
Changes in version 8.9.8-3
Changes in package description.