Cumulus v2.9.1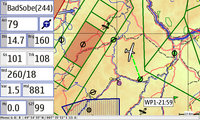 Downloads: 21597
Votes: 10
Free & Open Source license

Full featured on-board navigation software for glider pilots (and everyone else moving through the air). Moving vector map (fully configurable), airspace display and warning, reachable airfields, task management, IGC logging, approach calculator and much more.
Originally derived from KFLog, it has many contributors. Current maintainer is Axel Pauli.
Note: 1315 downloads before cleanup (to overcome screenshot bug)
Updated 2010-11-20 00:00 UTC
Links
Changes in version 2.9.1
2.9.1 - Hardware support for FLARM as GPS and altitude source, display of other FLARM-equipped planes! Various UI improvements; German language pack now included; lots of fixes.