Browser Switchboard v3.3-2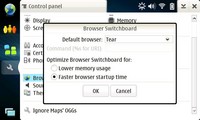 Downloads: 3666
Votes: 6
Free & Open Source license

Browser Switchboard is a program which allows you to choose which web browser to use as the default browser on Maemo devices. It supports MicroB, Tear, Mobile Firefox, Opera Mobile, and Midori out of the box, and can also be used to launch MicroB without having browserd running.
Updated 2010-10-10 10:21 UTC
Links
Changes in version 3.3-2
Add support for Opera Mobile.