Blobby Volley 2 v0.6a-maemo4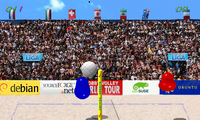 Downloads: 13744
Votes: 10
Free & Open Source license

Arcade volley ball game
Blobby Volley is one of the most popular freeware games. This is caused first by the simple play principle and second by the funny design of the player. The short duration of a game is a reason for playing this game in meantime.
Updated 2008-07-29 15:45 UTC
Links
Changes in version 0.6a-maemo4
Improved touchscreen controls.