AlmostTI - TI Graphing Calculators Emulator v1.3.2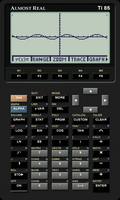 Downloads: 11444
Votes: 33
Non-free license

AlmostTI turns your internet tablet into an almost perfect copy of the TI82, TI83, TI83+, TI85, or TI86 programmable scientific calculator from Texas Instruments. You can use it exactly the same way as you would use any calculator application. ATI uses beautiful artwork from Andrew Zhilin (aka wazd).
Updated 2009-04-09 23:15 UTC

Links
Changes in version 1.3.2
Fixed 2-pixel borders in some faceplates.
Selecting the same calculator model from the menu closes the menu now.
Removed serial communication code (not yet finished).