Advanced Backlight v0.15-0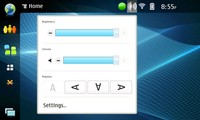 Downloads: 87620
Votes: 56
Free & Open Source license

Advanced Backlight is a statusbar applet that combines the volume and backlight applets, and gives access to the full 128 levels of backlight (127 on the N800), as opposed to the 5 levels provided by the Nokia applet.
Updated 2009-04-18 10:45 UTC


Links
Changes in version 0.15-0
Official Mer compatability release.
Applied Stskeeps' patch to remove DSME dependency.
As of 0.14-4:
Changed icon format.
Now (again) supports 770 with fanoush kernel for backlight updates.
Added little improvements for 770 screen rotation.