WhoAmI v0.1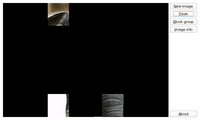 Downloads: 1260
Votes: 1
Free & Open Source license

Simple "guess what is shown in the image" game.
It scans flickr RSS feeds for photos of animals. One of the player then step by step shows more and more visible parts of the photo, while others have to guess what is shown.
Note that currently you must initiate network connection manually before downloading images!
Updated 2007-12-28 10:55 UTC
Links