Transmission v1.06 rev 24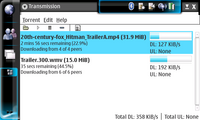 Downloads: 1362
Votes: 1
Free & Open Source license

BitTorrent client built for OS2007. Original project is at : http://transmissionbt.com/ (OS 2007 users should grab file with 'bora' in name) Note : initial freezing on larger downloads is normal as the file is allocated or extended on memory card.
Updated 2008-02-27 16:15 UTC
Links
Changes in version 1.06 rev 24
Upstream Changelog : Version 1.06 + (1.05 changes): + Fix support for multitracker torrents + Improvements and bugfixes to "Verify Local Data" + Use less CPU + Updated UPnP code to miniupnpc-1.0 + Fix two shutdown memory errors + Fix 1.04 crash when parsing bencoded data + Fix "Sort by Progress"