SDL Quake v1.0.9 (Rev 38)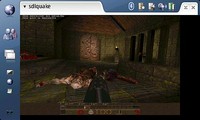 Downloads: 2592
Votes: 3
Free & Open Source license

Port of ID Software's popular Quake 3-D shooter game to maemo devices.
Updated 2008-05-12 19:19 UTC
Links
Changes in version 1.0.9 (Rev 38)
Fixed flicker on level loads, multiplayer works.
One click install is for N8x0 devices. For 770 users on 2007HE, go to homepage link.
N8x0 users wishing mmc versions can also visit homepage.