PyGTKEditor v1.3.0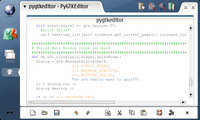 Downloads: 2562
Votes: 7
Free & Open Source license

PyGTKEditor is a text editor with a small screen footprint, fast syntax highlight for Python and PyGTK, fullscreen capable, regulars expressions search and many more.
Mainly designed for onboard python developpers, it can open any text file, and highlight syntax for c/c++/latex, and of course python.
Updated 2007-12-06 07:00 UTC
Links
Changes in version 1.3.0
Added syntax highlight for c/c++/latex.