Mauku v0.6.x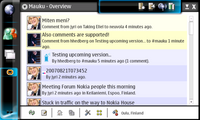 Downloads: 2244
Votes: 8
Free & Open Source license

Mauku brings micro-blogging into Maemo environment. It currently supports Jaiku and Twitter. The application works in all Nokia Internet Tablet devices, i.e. Nokia N810, Nokia N800 and Nokia 770.
Features include also kinetic scrolling and speech synthesizer!
Updated 2009-03-20 19:30 UTC
Links
Changes in version 0.6.x
Mauku supports the new Jaiku API with OAuth authentication.