Kerez v0.0.5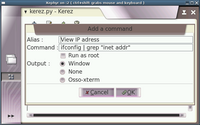 Downloads: 0
Votes: 0
Free & Open Source license

Kerez allows to store and execute the most commands used without using osso-xterm.
No single install file, go on the homepage to download it.
Updated 2007-11-07 07:43 UTC

Links
Changes in version 0.0.5
You can use the dpad center button to run a commmand and to close a result window.