JoikuSpot Linux Beta Edition v0.1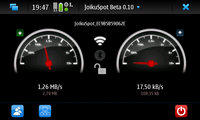 Downloads: 1892
Votes: 1
Free & Open Source license

Connect your laptop to internet by discovering your N900 phone via WiFi.
JoikuSpot turns your phone to a secure mobile WLAN (WiFi) HotSpot.
The current Linux Edition release is still in BETA as some compatibility issues related to WiFi stability against some laptop models equipped WiFi chipsets still apply. Production release will ship shortly as the compatibility issues are resolved.
Updated 2010-02-15 17:19 UTC
Links
Changes in version 0.1
First release