EmelFM2 File Manager v(0.4.1) rev 28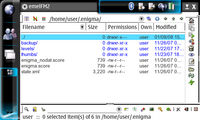 Downloads: 2639
Votes: 6
Free & Open Source license

A one or two pane file manager compiled for maemo. Has built in file viewer and editor. Targeted towards advanced users, although beginners could find value if used carefully.
Ported from original project at http://emelfm2.net
Updated 2008-04-06 17:20 UTC
Links
Changes in version (0.4.1) rev 28
5/18 : Updated to authors 0.4.1 release.
Upstream author made several changes specifically for maemo... scrolling in the configuration screens is much nicer now.
I added the clone plugin back in, added midi association, xarchiver support, lxsplit support, and added option for zips to test archive.
See homepage link for tutorial/help.