Easy Debian (Fremantle) v0.9.35-3fremantle1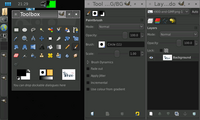 Downloads: 1129
Votes: 2
Free & Open Source license

Scripts to run Debian applications easily in Maemo for users not familiar with the command line.
A secondary desktop environment, LXDE, is provided to run applications that do not fit the restrictions of the Maemo 5 environment.
A large image file must be downloaded and installed before this package will work! You will need approx. 2.5 GB free in either your MyDocs directory or your MicroSD card.
Instructions and an automated installer are provided in the package.
Updated -0001-11-30 00:00 UTC
Links