SDL Quake v1.0.9 (Rev 37)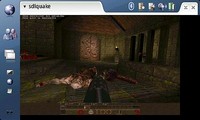 Downloads: 2968
Votes: 4
Free & Open Source license

Port of ID Software's popular Quake 3-D shooter game to maemo devices.
This Nokia 770 version will get maybe 8fps using pixel doubled version. Shrink screen using menu key to get to ScreenSizeMode, then use zoomout and zoomin to resize screen.
Updated 2008-05-12 19:46 UTC
Links
Changes in version 1.0.9 (Rev 37)
Fixed screen flicker on level loads and multiplayer works (tested on 800/810 but probably works for 770).