Other Maemo Weather v0.21.12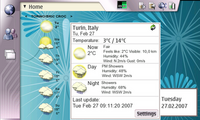 Downloads: 17462
Votes: 15
Free & Open Source license

Other Maemo Weather - home-page applet for World Weather on Nokia 770/N800. Use data from weather.com.
Updated 2009-07-10 03:45 UTC
Links
Changes in version 0.21.12
Latest stable release of branch 0.21. Changelog for 0.21.9: Increased the number of days in the pop-up window to the maximum extent possibly. Fixed the bug #3398 "Omweather doesn't show mmHg in main form (Combo mode)" ......
See full changelog for 0.21 branch https://garage.maemo.org/frs/shownotes.php?release_id=2423