Vncviewer v0.6.5-fremantle4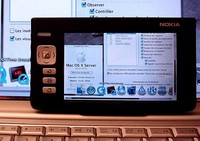 Downloads: 295822
Votes: 360
Free & Open Source license

A VNC viewer for maemo
Virtual Network Computing (VNC) is a system which allows the user to view a 'desktop' environment from anywhere on the Internet. The VNC viewer provides a client that can connect to a VNC server running on a different system and display its desktop.
Updated 2010-01-25 23:45 UTC
Links
Changes in version 0.6.5-fremantle4
Version 0.6.5 makes it possible to switch between fullscreen and normal screen with + loudness button and to turn off the toolbar in fullscreen again!
Version 0.6.6 is in extras-devel, and has a russian (Thanks to iserg) and a german localization.