vim v7.2-0maemo7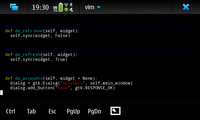 Downloads: 136206
Votes: 29
Free & Open Source license

Powerful console text editor
One of the most powerful text editors in existence, vim is "Vi-Improved". . This package contains the command line version only, and so should be used inside X Terminal; although a launcher icon is provided.
Updated 2010-01-22 08:45 UTC
Changes in version 7.2-0maemo7
Better compatibility with the N8x0/N900's cursor keys, and syntax highlighting turned on by default.