The Ur-Quan Masters v0.6.7-0maemo5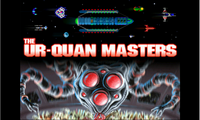 Downloads: 126715
Votes: 28
Free & Open Source license

The Ur-Quan Masters -- an intragalactic adventure game
The Ur-Quan Masters is the public release of the legendary Star Control 2 from 1992. Starcon2 was a revolutionary adventure game which featured role-playing elements and 2D arcade-style space combat in the grand tradition of Space War. The Ur-Quan Masters brings together the best features of the PC and 3DO versions and adds a fast-paced Super Melee mode.
You assume control of a single vessel built with an advanced alien "Precursors" factory-planet and return to Earth, only to find it enslaved. In your epic quest to overthrow the Ur-Quan overlords, you must travel to remote star systems, gather resources, outfit your flagship, recruit alien allies, battle diverse foes, and discover and disrupt an enigmatic enemy tradition in time to prevent the annihilation of the entire human race!
This package includes the application and will install the required game content. You may also install the optional uqm-3do-data package (130 MB) to add the music and dialogue voice-overs from the 3DO release of Star Control 2.
Experience one of the greatest space games ever made!
Updated 2010-01-28 09:45 UTC






Links
Changes in version 0.6.7-0maemo5
UQM is a very involved game. See the homepage for more information and resources. The newest release version fixes keyboard layout issues for users without arrow keys. See the keyboard layout image for a control key map.