Tickstill v1.1.1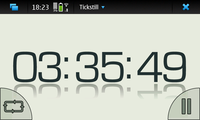 Downloads: 113320
Votes: 24
Free & Open Source license

Countdown timer which can also count up.
A full screen timer application with a finger friendly user interface. Plays an (user selectable) alarm sound when the count down reaches the end.
Updated 2010-06-24 16:00 UTC


Links
Changes in version 1.1.1
Added new about dialog.
The count down timer can be restarted by holding down the reset button.
Double tap to toggle the full screen mode.
Added possibility to show the current time.
The numbers have reflection when timer is running.
Night mode inverts the colors.
Added supports for presets.