Swappolube v1.4-2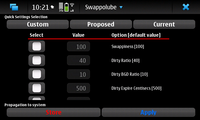 Downloads: 246244
Votes: 36
Free & Open Source license

The SWAPPOLUBE is a user interface to the configuration of several parameters of the N900's kernel with the aim to make it faster.
It provides the ability to change a number of parameters while in operation and if chosen can make them persistent by adding a script to event.d for them to be set after each boot. Additional information on the usage, settings and implications could be found in http://wiki.maemo.org/Swappolube
Updated 2011-07-15 23:45 UTC





Links
Changes in version 1.4-2
Modification of the UI to support rotation.
Modification of the UI to expand on all the available screen estate.