Storage Usage v1.1.4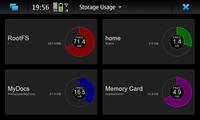 Downloads: 134774
Votes: 24
Free & Open Source license

Shows the disk usage of files as a treemap.
Scans the file system (root, home, memory card or user defined folder) and displays how much disk space the folders take on the device. The largest files are also displayed in a treemap. The application can also display the disk usage for the installed packages.
Updated 2010-06-18 17:30 UTC

Links
Changes in version 1.1.4
The scan window wasn't deleted when it was closed which caused a memory leak. Fixed.
The treemap is now limited to 4 hierarchy levels which should help with the performance with large file systems.
New application icon.
Added search option for the scan window (works only on the first level).
The normal folder scan now shows the current name in the progress.