Tor Status Area Applet v0.0.7-2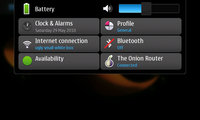 Downloads: 219908
Votes: 10
Free & Open Source license

Control usage of Tor (The Onion Router) to provide online anonymity
Tor is a network of virtual tunnels that allows people and groups to improve their privacy and security on the Internet. The latest information about Tor can be found at https://www.torproject.org/.
This package installs a status area applet that can configure the current proxy settings to route traffic through the Tor network.
Remember that this is development code -- don't rely on the current Tor network if you really need strong anonymity.
Updated 2011-08-20 07:30 UTC
Links