SlideRule v1.0.4-1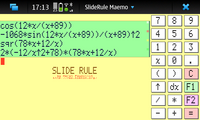 Downloads: 117789
Votes: 42
Non-free license

Advanced graphing calculator
SlideRule is an engineering calculator that will plot functions, take derivatives and do a few other useful things. Think of it as mini version of Mapple.
Updated 2010-02-12 17:45 UTC
Links
Changes in version 1.0.4-1
Ported application to Fremantle.
Added new-styled Fremantle menu.
Added bigger 48x48 icon to Fremantle control file.
Moved application to user/science group.