Shopper v0.5.13-1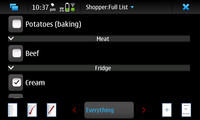 Downloads: 135678
Votes: 15
Free & Open Source license

Shopping List application
Provides a shopping list with categories and a UI that's useful whilst shopping. The list can be scrolled using your fingers and the items are crossed of the list with a left->right scribbling gesture.
Updated 2011-05-31 12:30 UTC

Links
Changes in version 0.5.13-1
This version for the N900 supports gestures and auto-rotation.