PyQt4 Demo v4.7.4-maemo0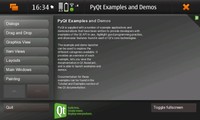 Downloads: 184053
Votes: 10
Free & Open Source license

Python Qt bindings demos, examples and documentation (PR1.2)
PyQt4 exposes the Qt4 GUI toolkit in Python.
This package contains Python-specific documentation for PyQt4 and the Qt example programs ported to Python. It provides a reasonable minimum set of modules and bindings to start PyQt development. Installing this package will install Python bindings for the QtCore, QtGUI and QtXML modules.
WARNING: Even though the bindings themselves are installed into /opt, the Qt libraries that might not already be installed WILL take up a lot of additonal space on your root.
Updated 2010-09-03 05:30 UTC
Links