SymPy interactive shell v0.7.1-fremantle3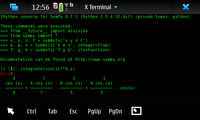 Downloads: 55947
Votes: 4
Free & Open Source license

Computer algebra system (CAS) in Python.
SymPy is a Python library for symbolic mathematics. It aims to become a full-featured computer algebra system (CAS) while keeping the code as simple as possible in order to be comprehensible and easily extensible. SymPy is written entirely in Python and does not require any external libraries. This package contains the interactive shell for SymPy, i.e., isympy, which starts ipython/python interactive shell and loads SymPy.
Updated 2012-04-14 15:30 UTC
Links
Changes in version 0.7.1-fremantle3
SymPy interactive shell 0.7.1 (04/02/2012) :
Plot()' and 'preview()' work on Maemo 5, just type 'apt-get install python-pyglet' as root;

Nokia N900 extra keys to control plots made by the 'Plot()' command.

increased sensitivity of keyboard and mouse/stylus control for 'Plot()' graphics;

removed '.pyc' files from package because they are created during installation.