OSM2Go v0.8.3-maemo2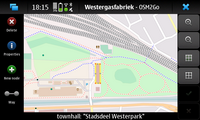 Downloads: 149454
Votes: 246
Free & Open Source license

A mobile OpenStreetMap Editor
OSM2Go is a lightweight editor for OpenStreetMap intended for mobile devices and small screens.
This mapping tool is particularly suited for small-screen portable systems such as subnotebooks, handheld devices and netbooks which do not have a network connection at all times.
OSM2Go features a tagging presets system, background satellite/WMS layers, and gpsd integration. It was originally designed for the Maemo mobile Linux platform, and so is lightweight and sports a simple, speedy interface to map editing.
Updated 2010-02-21 15:45 UTC



Links