Mobile HotSpot v0.3.4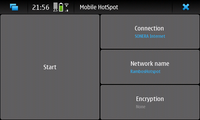 Downloads: 263633
Votes: 27
Free & Open Source license

[READ DETAILS!] Share your mobile internet connection via WiFi
WARNING: This software requires custom kernel!
One can (and possibly will) be installed automatically but be aware that the custom kernel has much greater chance of messing up your device than the run-of-the-mill not-officially-supported software.
For best results first install "Enhanced Linux kernel for power users" (and reboot) and afterwards install Mobile HotSpot.
Provided as-is, no warranty etc. Use at your own risk.
Updated 2011-01-06 22:30 UTC
Links