Mauku v2.0-beta4update2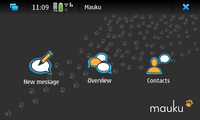 Downloads: 119693
Votes: 254
Free & Open Source license

The micro-blogging client for Maemo devices (application)
Mauku is the micro-blogging client for Maemo devices. It supports, for example, Twitter and compatible services.
With Mauku, you can post Tweets, a short blog posts about what are you doing. You can also follow what are your friends doing, and comment their Tweets.
For more information, visit http://mauku.innologies.com/ .
This package contains the main application.
Updated 2009-11-01 10:45 UTC
Links