GPS Recorder v1.2.229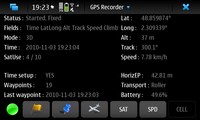 Downloads: 215021
Votes: 21
Free & Open Source license

GPS data logger to KML, GPX and CSV formats
A GPS data logger for the Maemo platform. Main features : * Gathers as much information as possible from the GPS subsystem at a desired frequency (time, satellites, fix loss, etc...). * Exports your saved tracks to KML/KMZ, GPX and/or CSV files in a single operation. * Snap and name a position (POI) while recording to see it later on a map. * Automatically updates system time according to GPS time.
Updated 2011-03-31 08:45 UTC




Links
Changes in version 1.2.229
Corrected : the 'deleted empty track file' bug.
Added : 'Time setup' field to indicate when system time has been setup and tracks can be recorded.
Added : 'Waypoints' field which shows the numbers of written fixes into the current output file.
Added : 'Last waypoints' field to show the last time a fix has been written.