free42 v1.4.60-maemo3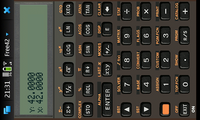 Downloads: 117615
Votes: 32
Free & Open Source license

HP look-alike RPN calculator based on the Free42 project for Nokia N900
mobile computer. This package contains realistic looking vertical and horizontal skins.
Updated 2010-01-03 17:45 UTC
Links
Changes in version 1.4.60-maemo3
Update to upstream Free42 version 1.4.60.
Task switcher view update, now installs to /opt, N900 version starts in vertical mode by default.
Still missing program import/export, printer support and preferences setup dialog.