Easy Chroot v0.3.5-1fremantle1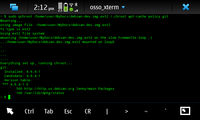 Downloads: 289620
Votes: 19
Free & Open Source license

Scripts to mount and chroot into images/partitions, Fremantle version.
---
This package provides the infrastructure for Easy Debian, but it can be used for other purposes, like mounting a CD-ROM image or setting up an on-device SDK for app development. Install dmsetup and kernel-module-dmloop to use the (possibly faster) dm-loop.
---
(If that didn't make any sense to you, don't install this)
Updated 2011-09-23 23:00 UTC
Links
Changes in version 0.3.5-1fremantle1
This is the package that makes Easy Debian work. It can also be used to mount a development image for compiling Maemo apps on-device, or for mounting and chrooting into the root filesystem of any other ARM-based Linux distribution (such as Ubuntu, Fedora or Mer).