Currency Converter v0.8-7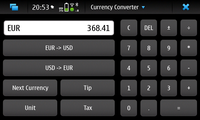 Downloads: 176719
Votes: 44
Free & Open Source license

Currency converter with unit converter and a simple calculator
The main feature of this application is a currency converter with more than 70 currencies. The exchange rates for these currencies are automatically updated from the internet. There is a possibility to store preferred currencies for faster access.
Custom currencies can also be created. If these custom currencies are pegged to the Euro or the US Dollar, their exchange rates will be recalculated automatically during updates. All currencies can be edited manually.
The inbuilt unit converter includes the most common units for measuring area, length, mass, speed, temperature and volume. As with currencies, the preferred units too can be stored for faster access.
Most of the basic calculations can be done with the inbuilt calculator, which includes buttons for adding the tax (VAT) and the tip.
Updated 2010-02-15 13:45 UTC




Links