CSSU Features Configuration v2.5-6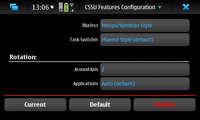 Downloads: 218661
Votes: 17
Free & Open Source license

The CSSU Features Configuration application is a user interface to the configuration of several parameters enabled by the Community SSU updates.
It provides the ability to change a number of parameter values by modifing several options in the transitions.ini configuration file as well as in the GConf configuration system. Additional information on the usage, settings and implications could be found in http://wiki.maemo.org/CSSU_Features_Configuration_Editor
Updated 2011-10-27 21:15 UTC




Links
Changes in version 2.5-6
(wrt last stable version): * Added support for CSSU version 20.2010.36-maemo16. ** blurless_saturation variable ** scroll_vertical gconf entry * Added feature to add missing variables in the transitions.ini file. * Fix write of settings issue when no space between variable and value. * Added better support when theme used. * Improved WARNING and ERROR messages. * Added new icon.