Catorise v0.8.2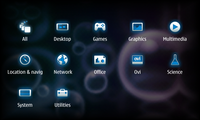 Downloads: 371317
Votes: 121
Free & Open Source license

Put applications menu into sensible categories.
Catorise puts the applications menu into a series of sections, matching those used in the Application Manager to install it. As packages are installed and removed, the menu is kept up-to-date. To revert to the Nokia-supplied default, simply uninstall.
This is based on the "MyMenu" concept by manzn.
Updated 2010-06-02 07:15 UTC
Links
Changes in version 0.8.2
Features: * Sort menu by localised name, provided by Todor Tsankov. * Change the way Ovi Store items are recognised, and also speed up the processing of them.
Bug fix: * Fix "uninitialized variable" issue when desktop files not owned by any package. Reported by Marcin Juszkiewicz.