battery-eye v0.8-0pre1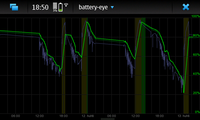 Downloads: 376964
Votes: 39
Free & Open Source license

Battery charge logging and graphical visualization for Maemo5/N900.
battery-eye is a small app, that records battery data (percentage, current, voltage, charger status) continuously in background, and creates a graph to visualize how the values change over time. It also calculates statistics on average battery usage, and battery life estimates based on that.
The data collection process is designed for minimal impact on system performance and battery life.
Updated 2012-11-08 10:30 UTC



Links