AlmostTI Graphing Calc Emulator v1.4.1-1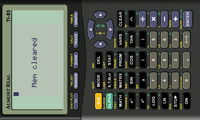 Downloads: 150243
Votes: 158
Non-free license

TI programmable calculator emulator
AlmostTI (ATI85) will emulate TI73, TI82, TI83, TI83+, TI83+ Silver Edition, TI85, and TI86 programmable calculators from Texas Instruments.
Updated 2009-12-23 13:04 UTC


Links
Changes in version 1.4.1-1
Added support for TI73 and TI83+ Silver Edition.
Added new-styled Fremantle menu and a bigger 48x48 icon.
Top-left screen corner now invokes the menu, top-right corner quits the application.
Disabled debugger, as it may have caused hangups when Z80 hit FFFFh.
Optified application.
Implemented much better sleep mode.