Ask Ziggy v0.6.2-1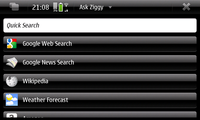 Downloads: 195799
Votes: 15
Free & Open Source license

Search for news, weather, translations, reviews, movies, wikipedia entries and more.
Ask Ziggy is fast, time saving, easy to use and brings together information at one place.
This app performs search queries against several web APIs like Yahoo YQL and Google API.
A default language for most services can be set.
Recallable histories.
Previews for search results.
Urls can be opened mobile-friendly with Google Mobilizer.
Services are sortable and can be deactivated.
Updated 2011-01-08 12:30 UTC





Links