BatteryGraph v0.3.2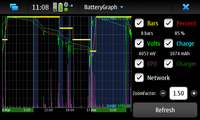 Downloads: 207901
Votes: 47
Non-free license

Displays battery statistics into a graph
BatteryGraph will monitor the battery statistics and shows the results in a graph. Also monitors average cpu load and network connection.
New features since v0.3.1: * Changed fullscreen toggle to double click and menu option * Added option to configure drawing of charging bars * Small layout changes for upcoming Qt4.6
New features since v0.3.0: * option to export entire graph as png image
See http://maemo.JeroenWitteman.com/BatteryGraph for more information.
BatteryGraph is freeware, if you like this program you can donate any amount, see website for details. Thank you.
Updated 2010-04-18 19:30 UTC



Links